Good morning Middies, some transportation updates impacting North and West you need to be aware of: At West, Bus 33 will be divided between 19, 14, 10 and 21. At North, Bus 1 will be divided between 3 and 34. Students on those buses may arrive 15-20 min. beyond their normal time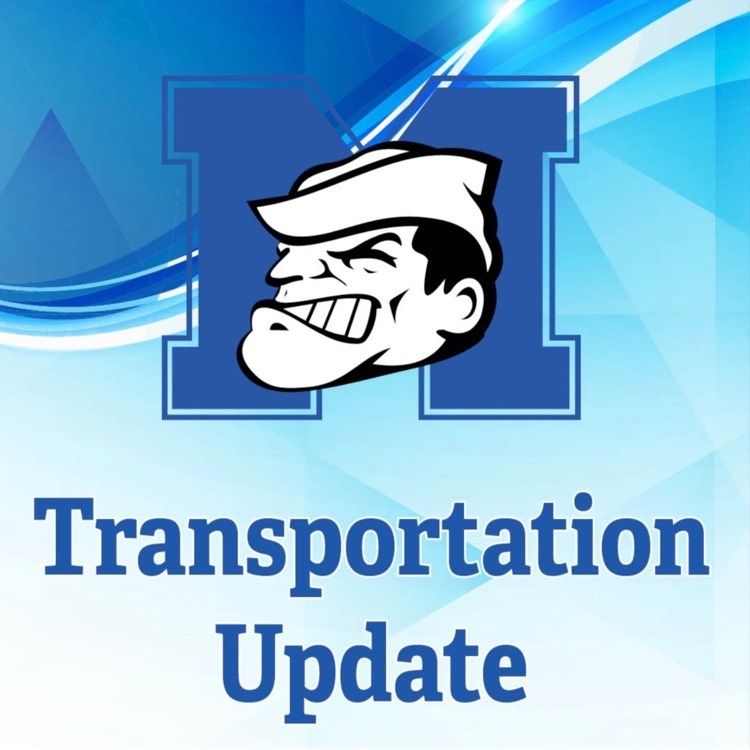 Due to a serious windchill advisory until 11:00 am tomorrow morning, I have decided to cancel school tomorrow Thursday, January 27th. The temperatures are supposed to be in the double-digit negatives and this may just be too cold for students waiting for buses.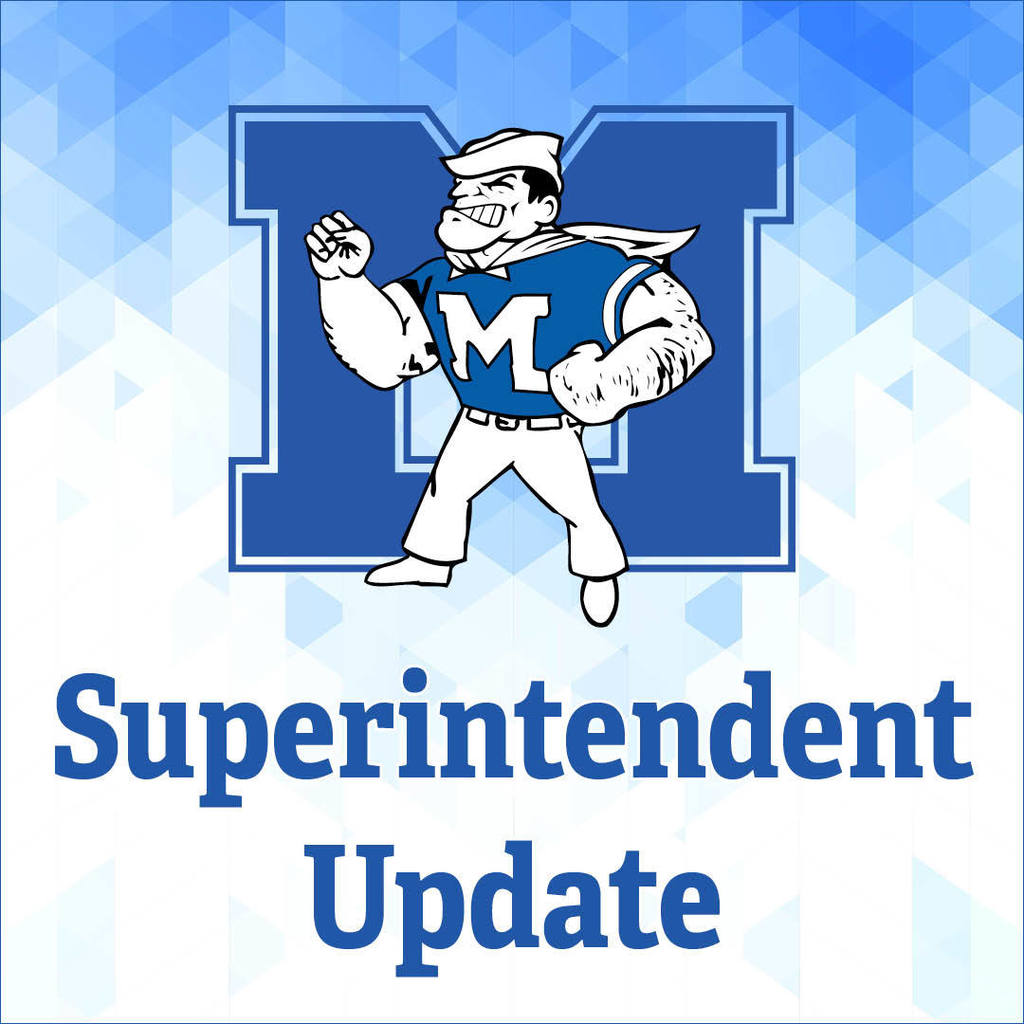 All non-essential activities this evening on campus have been cancelled due to inclement weather and road conditions. Activities directly after school will continue, but please be careful heading home. Thank you!


Attention Middie families with students in grades 5-11, Midview High School will be hosting its course showcase night before students begin scheduling for the 22-23 school year. Come see the awesome classes students get to experience on February 1, 2022 from 6-7:30 at the HS!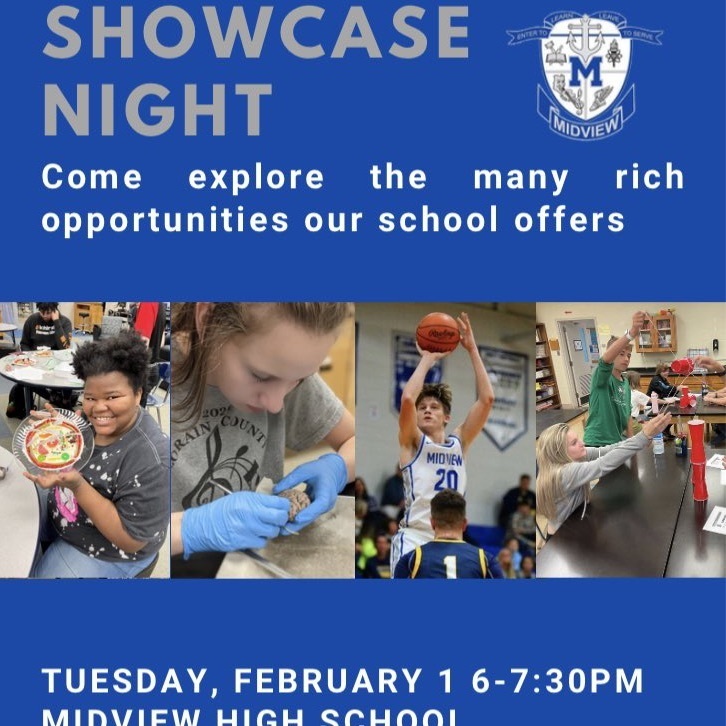 Lorain Co Public Health Dept will be having a vaccination clinic on Sat 1/22 in Lorain @ Jonnie Wilson School from 9-1. ◦No internet access? Call 440-284-3206 for an appt. ◦ Need a different date/time? Call Lorain Co Public Health's vaccine office @ 440-284-3206

Hey Middies, just a reminder that Midview will host an ACT prep seminar on January 21 from 8:00am to 2:30pm at the HS. Students will learn specific testing strategies and test tricks. The price for our students is just $49 each. Register online at
https://nlpohio.com
.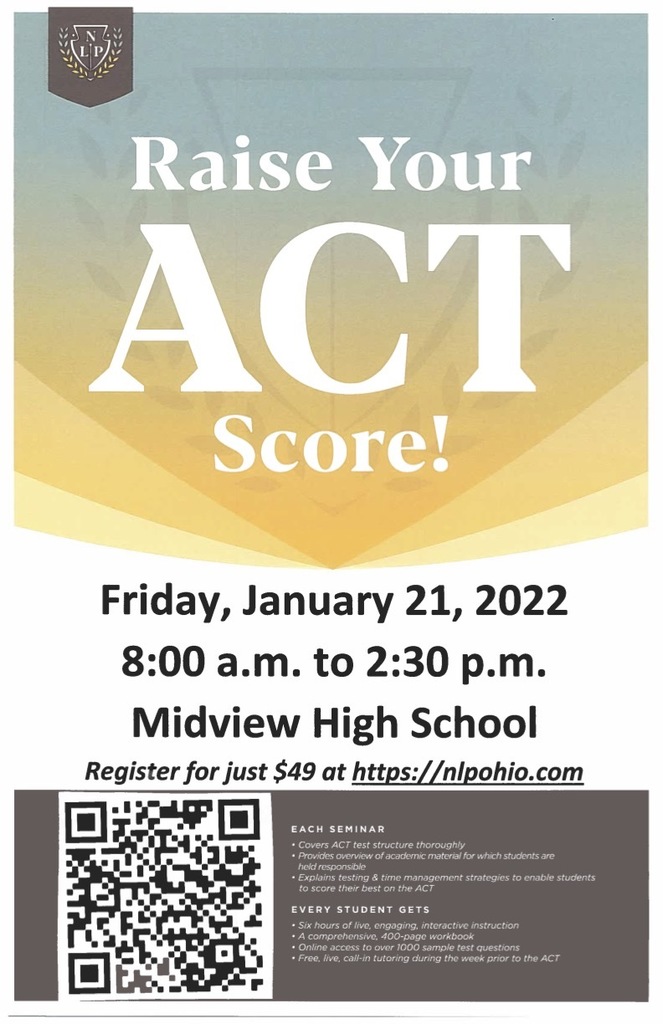 Congratulations to Midview West 4th grader Matthew Limpach on representing Midview proudly at the Ohio Statehouse for the Invention Convention competition. Matthew's wet pet shield is an innovative solution to a simple household problem! We are so proud of you Matthew!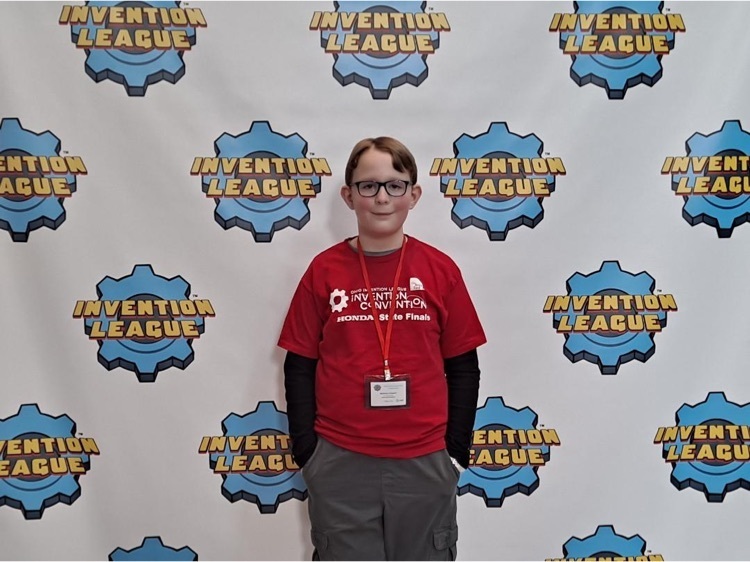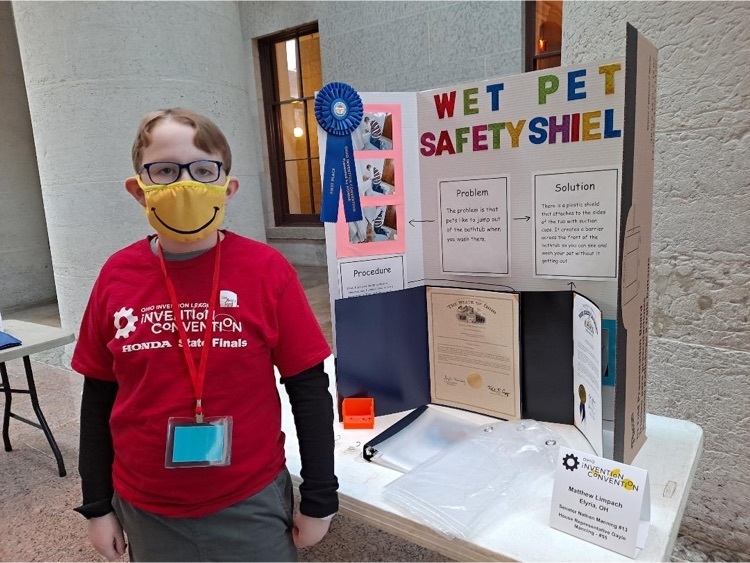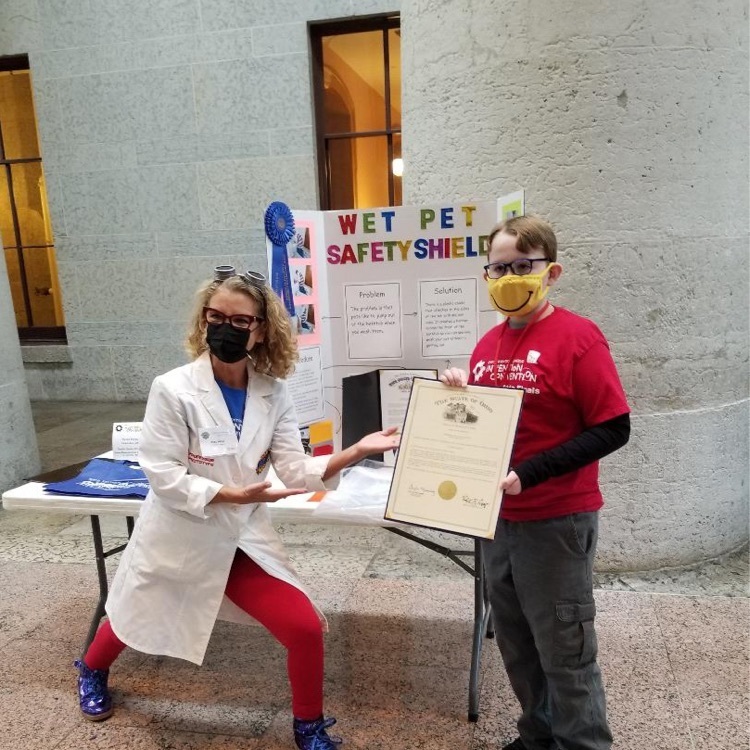 Congratulations to Mr. Tomasheski, Mrs. Winslow and Mrs. Quintiliano on their re-election to the Midview School Board. Additional congratulations goes to Mrs. Winslow being appointed Vice-President and Mrs. Quntiliano as President. Thank you for all that you do for Midview!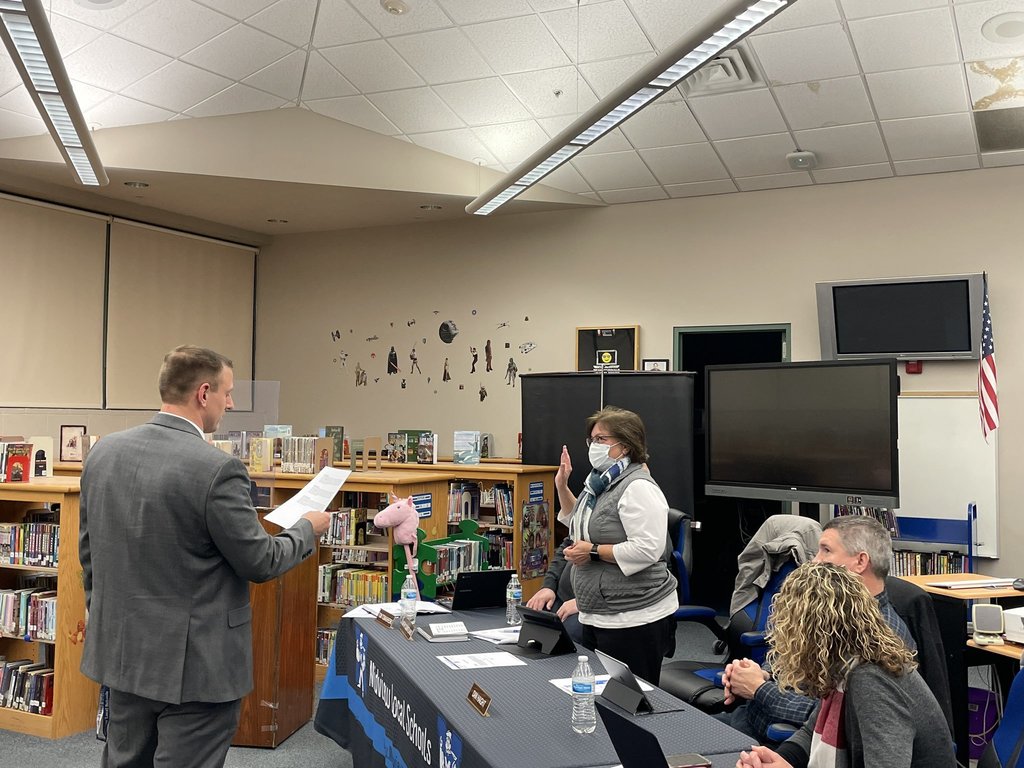 Good morning Middies! Just a reminder that there is NO SCHOOL for students tomorrow, January 3 due to staff professional development. See everyone on Tuesday! Happy New Year!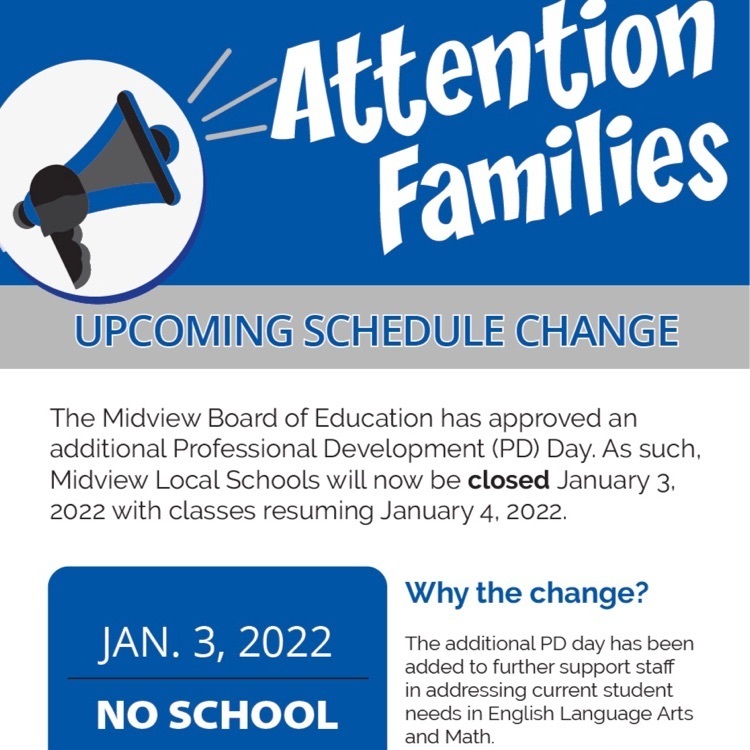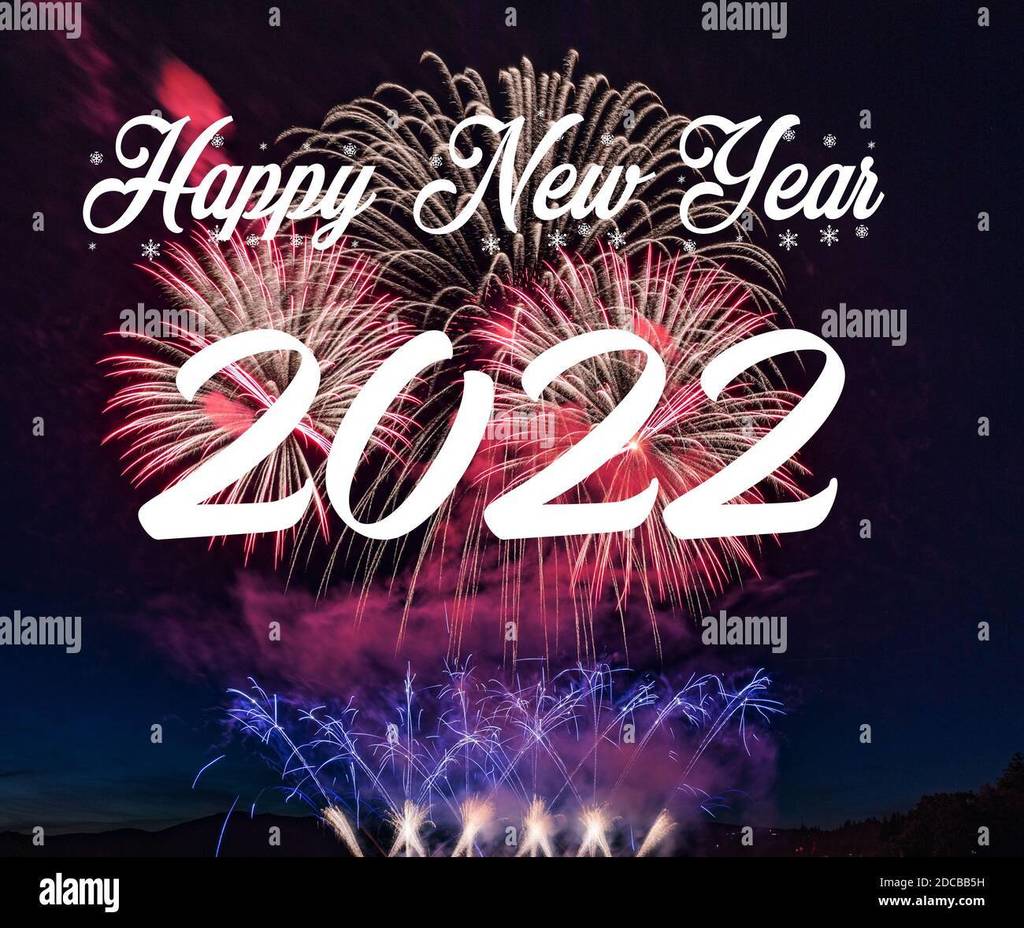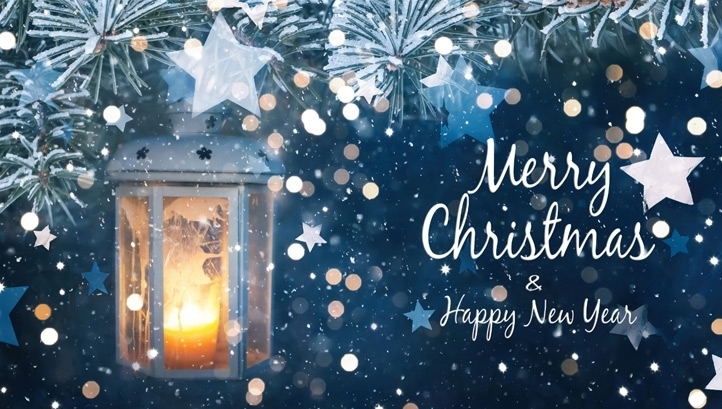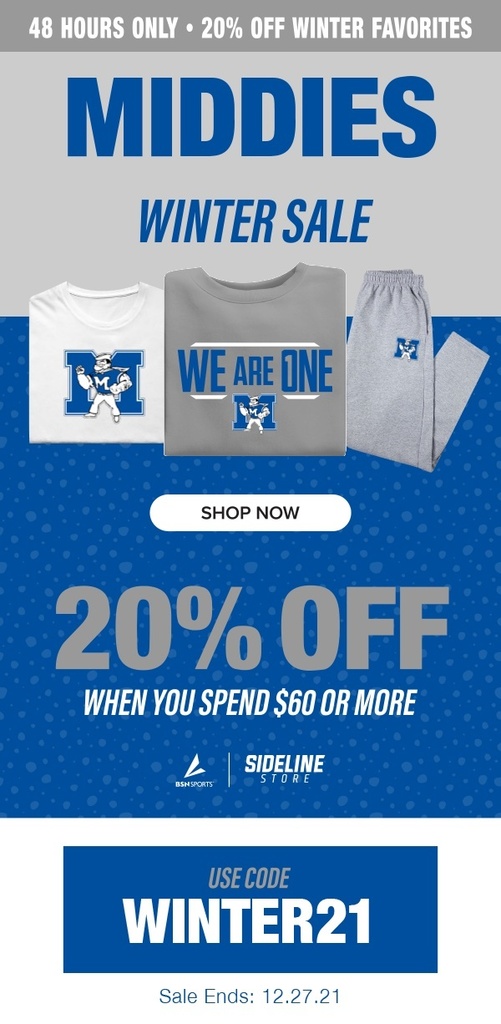 Hey Middies, there's another flash sale on the Midview online store! Check it out!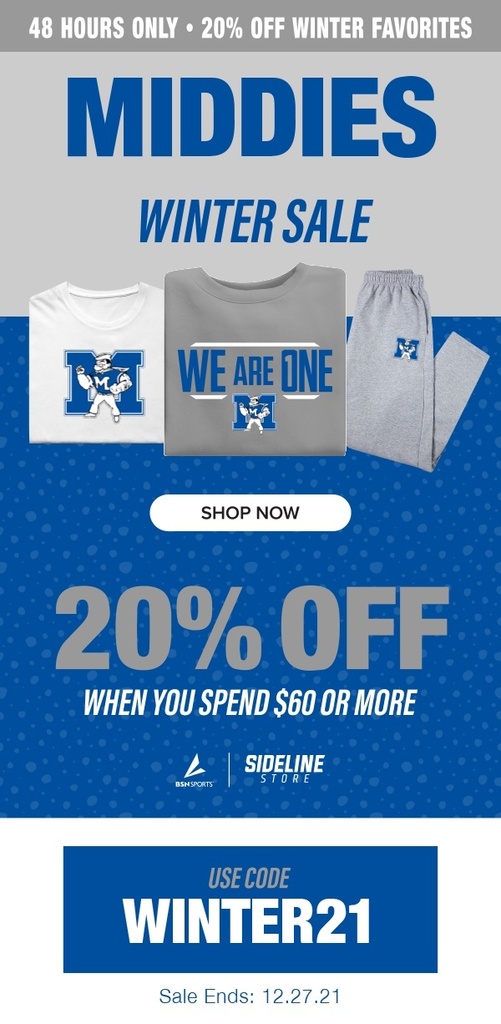 Attention Middies! Please see the attached image announcing a change to our school calendar for January 3rd. There will be NO SCHOOL for students that day due to staff professional development. Holiday break for students will be extended by 1 day! Enjoy the time with your family!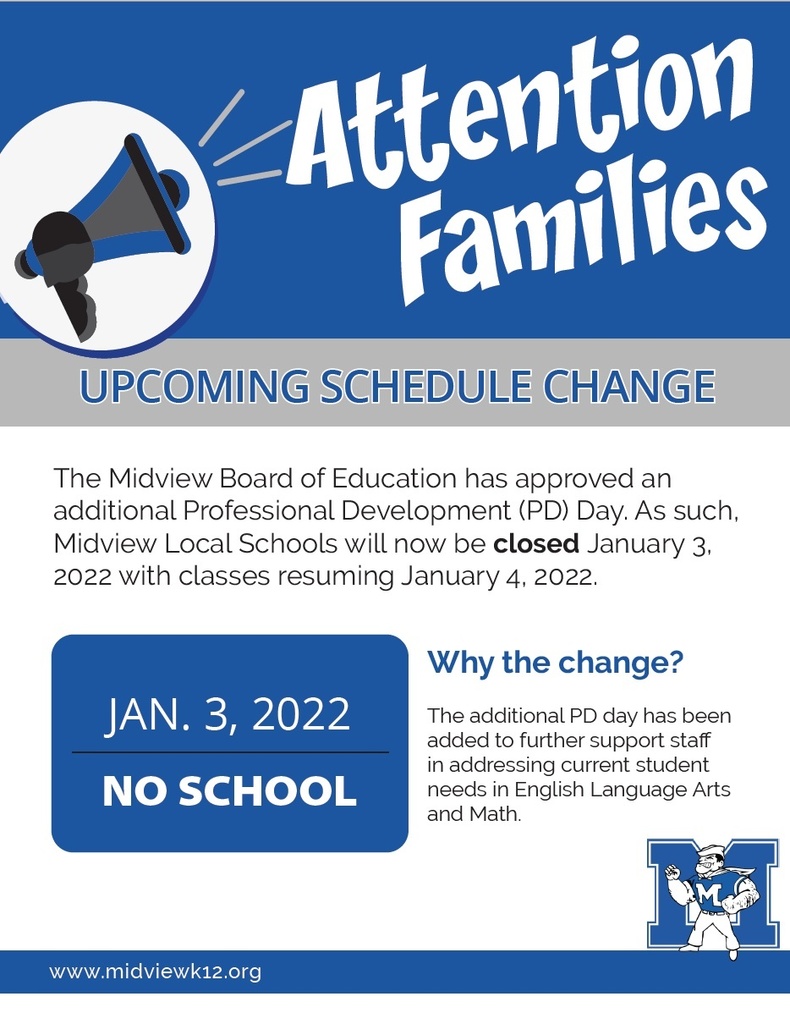 Heads up Middies, bus routes may be 10-15 minutes later than typical drop off times today, December 17. This may impact all routes. We apologize for the inconvenience. If you have any questions, please contact your student's school. Happy holidays!